Second Quarter Updates from the Wallace Center
July 10, 2023 — Happy summer! We've had a full and productive spring and are excited to share some of what's been blossoming. Scroll down to:
read the initial impacts of and Wallace Center recommendations for the USDA's Local Food Purchase Assistance (LFPA) procurement program;
check out the Food Systems Leadership Network's Value Chain Coordination evaluation framework;
learn about the Wallace Center team's evolving dairy grazing work and an update on the EPA subaward program.
There's more to read below and within our redesigned project pages!
As always, thank you for your support and please reach out if you want to learn more about these initiatives.
STRENGTHENING THE CHANGE ECOSYSTEM
Wallace Center releases report, includes initial impact of LFPA program
The Wallace Center is proud to share its new report outlining the initial impact of the U.S Department of Agriculture's Local Food Purchase Assistance (LFPA) procurement program. Launched in 2022, the LFPA is an innovative program that is investing more than $864 million in local communities and regional agriculture value chains over three years. The LFPA program is expected to benefit thousands of farmers around the country and bring an overall economic impact of $1.8 billion to communities across the U.S.
"LFPA is a great example of how the federal government can use its purchasing power to strengthen and shore up regional food supply chains while building the economic viability of family farmers and creating pathways for those farmers to feed people in their own communities who are experiencing hunger. It is an innovative, market-based program and we're excited to share what we've been learning about it through this report," said Susan Lightfoot Schempf, Wallace Center Co-Director.
The Wallace Center hosted a webinar (you can watch the recording here) where community leaders who are implementing the LFPA spoke first-hand about their experiences. On July 10th, the team presented the report during a congressional briefing, where they highlighted findings in their research.
Value Chain Coordination evaluation framework published
In mid-June, after months of research and creative thinking, the Food Systems Leadership team released its value chain coordination (VCC) evaluation framework. Led by Project Managers Elizabeth Atwell, Ellie Bomstein and Andrew Carberry, this framework is designed to help VCC professionals effectively evaluate their VCC work and document their impact.
As one user commented, "I found [this framework] to be a tremendous tool in working through our organization's values and desired ultimate impact and then connecting these more nebulous goals to the concrete work we are actually doing."
Elizabeth, Ellie and Andrew co-hosted an Evaluation Framework release with two FSLN members–and VCC food systems leaders–that can be viewed here.
REIMAGINGING AND REDESIGNING FARMING AND FOOD SYSTEMS
Wallace Center determines 10 subawardee organizations to move forward in EPA project co-design process
The Wallace Center received over $4 million in applications for its $2M Farmer Conservation Leader Subaward Program. This program, funded by the U.S. EPA's Gulf of Mexico Division, is designed to support farmer conservation leaders in the Mississippi River region and address the diverse needs of historically underserved farming communities.
Applicants were based across the Upper and Lower Mississippi River basins and serve a diverse range of farmers and communities. A review panel selected 10 subawardees to move forward to the project co-design phase, during which subawardees will develop full project plans. Organizations selected to move forward serve a variety of farmer conservation leaders across five states, in rural and urban contexts, and on issues ranging from toxic algal blooms to climate resilience.
We're eager to announce the subawardee organizations once the co-design phase is completed later this year. Meanwhile, we are currently fundraising to provide additional funds to these subawardee organizations in their storytelling, advocacy, and evaluation efforts. This is a fantastic opportunity for philanthropic funders to help the program offer activities beyond what's possible through federal funding. Reach out to Michelle Mathew to learn about how you can support!
Wisconsin Dairy Grazing Gathering
Members of the Wallace Center's Resilient Agriculture and Ecosystems team got together in Madison, Wisc., this quarter (see below!) to plan the next phase of its work on dairy grazing.
Supported by the Great Lakes Protection Fund, the team spent several days on a dairy farm in northern Wisconsin meeting with project partners. "We were able to see the low overhead dairy grazing system in action," said Sr. Program Associate Jane Jordan. "We discussed our initial analyses on financial and environmental performance, and dug into what would accelerate adoption of the system in the Great Lakes Basin."
Special thanks to Joe Tomandl and the Dairy Grazing Apprenticeship team for hosting the team!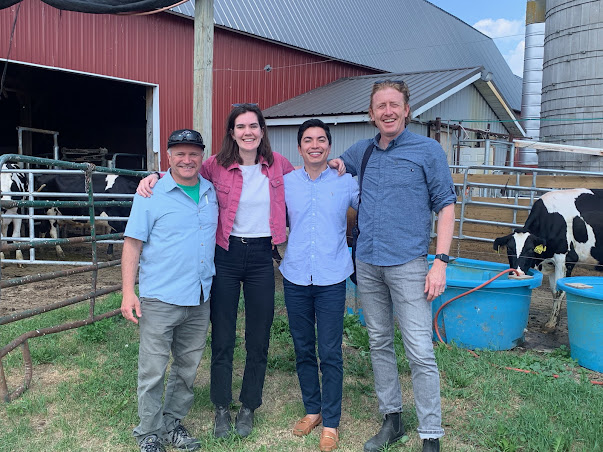 Yearning to read more?
Keep up with monthly project updates through the Food Systems Leadership Network Catalyst, Regenerative Ag Idea Network Digest, or Pasture Project newsletter!