New Report Details Impact of USDA's Local Food Purchase Assistance Program
June 22, 2023 — The Wallace Center is thrilled to announce the publication of a new report outlining the initial impact of the USDA's Local Food Purchase Assistance Program (LFPA). Through partnerships with state agencies, and territory and tribal governments, this innovative new program is investing more than $864 million into local communities and regional agriculture value chains in just three years. The novel federal procurement program is expected to benefit thousands of farmers and bring an overall economic impact of over $1.8 billion dollars to communities across the United States.
---
Fill out the form below to download the full report.
---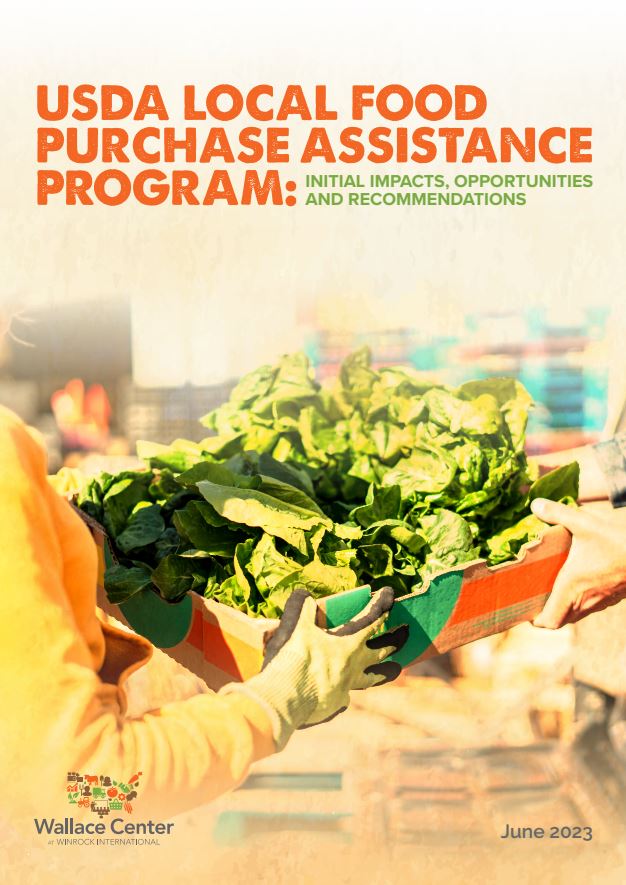 Over the past year, our team has been working in partnership with Duke Sanford World Food Policy Center and leaders in the field of farm to food assistance to better understand and support the people and organizations building and implementing LFPA programs across the country. This report, which is based on extensive research and countless conversations, offers the first comprehensive analysis of LFPA.
Through dozens of interviews with LFPA implementers, a national survey involving over 300 respondents, conversations with our 350+ member community of practice, and USDA staff who manage LFPA, the report shares our collective learning about what is working well, opportunities for improvement, and recommendations for sustaining this important program.
---
About the LFPA Program
In December 2021 the USDA announced the Local Food Purchase Assistance Cooperative Agreement Program (LFPA), an innovative $900M effort led by the Agricultural Marketing Service's Commodity Procurement Program. LFPA is part of a historic effort led by USDA to transform the food system as we know it, making it more resilient and fairer through investments in family farmers and rural economies, an emphasis on equity, and innovations that make nutritious foods more accessible and affordable. The program is operated through non-competitive cooperative agreements with state agencies, and territory and tribal governments, who in turn work with local farmers, food hubs, food banks, and community-based organizations to implement the program.
---
We express deep appreciation to members of the Food Systems Leadership Network (FSLN), our partners and collaborators, community of practice participants, and our esteemed colleagues at the USDA for contributing to this valuable work. This report was made possible by the generous support of The Rockefeller Foundation.
Special thank you to the following partners and collaborators:
Gizem Templeton, PhD, Duke World Food Policy Center
Jennifer Zuckerman, Duke World Food Policy Center
Lisa Katherine Miller, Table 81 LLC
Hannah Quigley, National Sustainable Agriculture Coalition
Erin Parker, Indigenous Food & Agriculture Initiative at University of Arkansas
Andy Fisher, Eco Farm
Dionne Washington, formerly Arizona Food Bank
Haile Johnston, The Common Market
Kana Miller, Carolina Farm Stewardship Association
Eva Agudelo, Farm Fresh Rhode Island
Andy Ollove, Fresh Approach
Renee Catacalos, Sustainable Agriculture and Food Systems Funders
Sally Worley, Practical Farmers of Iowa
---
Suggested Citation
Atwell, E., Bomstein, E., Edwards, M., Schempf, S. & Templeton, G. (2023). USDA Local Food Purchase Assistance Program: Initial Impacts, Opportunities and Recommendations. Wallace Center at Winrock International.