Fall Updates from the Wallace Center
November 8, 2022 — It's hard to believe we're in the final quarter of 2022, and what a year it's been! Below is a roundup of Wallace Center's program highlights from July-September. Happy reading!
In case you missed it, we recently published our 2021 Annual Report where we celebrate key programmatic and organizational achievements and highlight the transformation underway at the Wallace Center. We are growing into a more human-centered, transparent, and accountable organization – please take a look and let us know how we're doing!
Lastly, we just kicked off our first-ever fundraising campaign! Our goal is to raise $25,000 by the end of the year to strengthen our work with farming and food systems leaders across the U.S. Please share with any friends and networks that might be interested in supporting these efforts. Learn more and donate here!
Want to get updates delivered straight to your inbox? Subscribe to our quarterly newsletter here! [view this as an email campaign]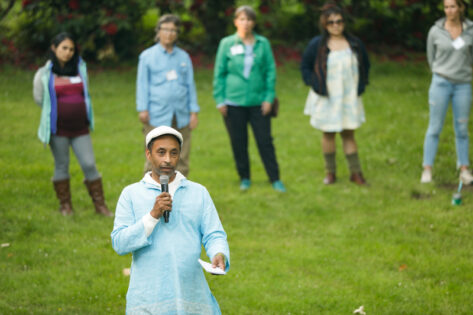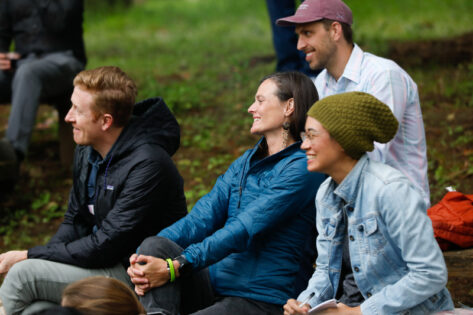 STRENGTHENING THE CHANGE ECOSYSTEM
Reflecting on the 2022 Food Systems Leadership Retreat
In September, the Food Systems Leadership Network (FSLN) brought together 24 network members for a week of virtual connection, learning, and reflection that participants described as "authentic, intentional, and thoughtful." Facilitators and FSLN members Natilee McGruder (Growing Green, LLC), Rachael Reichenbach (Resist Reimagine), and Lindsey Lunsford (Tuskegee University) led participants through the five capacities of systems leadership, collectively unpacking how racism, racial equity, and power influence the systems we are seeking to change and offering skills, tools, and perspectives for shifting these systems. This image captures a retreat session imagining ways to individually and collectively lead from a positive vision of the future. Sincere gratitude to the facilitators and participants for co-creating such a meaningful retreat!
"This brilliantly facilitated week of connecting and learning gave me the hope, courage, and inspiration I have been craving to re-engage my work with loving and fierce energy." — 2022 Retreat participant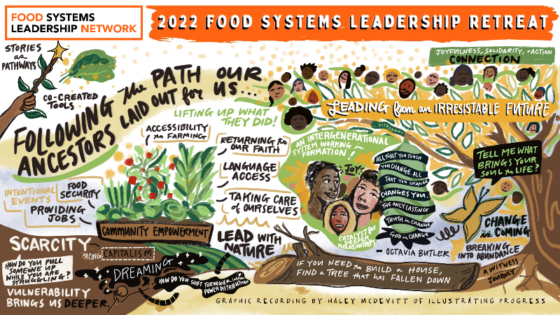 Wallace Center wins $3M from U.S. EPA to invest in Mississippi River farming organizations
The Wallace Center has been awarded a $3M cooperative agreement from the U.S. Environmental Protection Agency to design and manage a collaborative regranting program for farm organizations supporting underserved farmers in the Upper and Lower Mississippi River basins. The five-year project will center on transparency and collaboration with and among grantees, with a particular emphasis on organizations that are led by or serve Black, Indigenous, and Persons of Color (BIPOC) farming communities. The regranting program will launch in early 2023 so stay tuned! [learn more here]  
Featuring food systems leaders in Willful Wildflowers storybook
Since 2018, the FSLN has been connecting and supporting food systems leaders from across the country to strengthen their efforts to transform the food system. Willful Wildflowers features the individual stories from some of the amazing leaders in this field; collectively, it is a colorful illustration of the leadership, ingenuity, and fearlessness within the movement for more equitable food systems. [explore leadership journeys here]
REIMAGINING AND REDESIGNING FARMING AND FOOD SYSTEMS
Wallace Center concludes its Institutional Investment Accelerator
In a pilot program hosted through the FSLN, six teams across the U.S. were offered resources, training, and mentorship to shape strategies to build community wealth through institutional investment. Connected by efforts to channel investment into local food systems development, teams developed relationships and created action plans to implement investment strategies.
"I've identified how to find my purpose, and how to do agriculture in public health. [The Accelerator was] the most transformative experience I've had the honor of being selected to do." –Megan Govidan, West Virginia University, Office of Health Affairs
The Accelerator has led to new funding for several teams, including a recent USDA Regional Food Systems Partnership grant that will support the Oregon team's work to increase marginalized farmers' access to institutional markets. The team from Baltimore has also won a private foundation grant to continue their work. Huge thanks to the Kresge Foundation for supporting this initiative! Check out this graphic made by participants.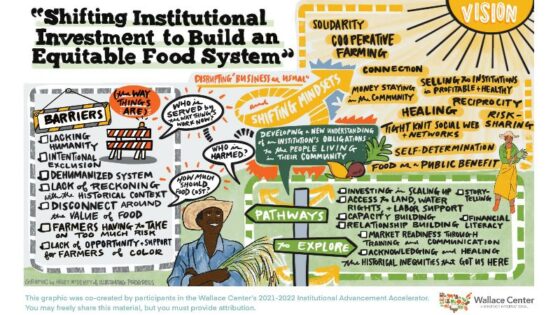 Supporting Farm to Food Assistance value chains
Programs that connect communities facing hunger with free, locally-grown food and pay farmers a fair price are a powerful way to build community food security. The USDA-AMS Local Food Purchase Assistance Program presents a new opportunity to advance this work. The Wallace Center has launched a Community of Practice (CoP) to support individuals implementing farm to food assistance programming, including LFPA implementers. Through this new CoP and a survey, created in partnership with Duke World Food Policy Center, we hope to better understand the complexities of farm to food assistance to advocate for sustainable solutions. Are you involved in programs that advance farmer viability and food security? Share your insights in this survey! Your experience will strengthen our understanding of this work and help craft outreach and assistance efforts to make these programs more sustainable and effective.  
Wallace Center receives planning grant for dairy grazing project
The Wallace Center has received a planning grant from the Great Lakes Protection Fund to explore how low overhead regenerative dairy grazing could revitalize the dairy sector by offering a scalable solution for farmers, the environment, and rural communities. The Wallace Center team will work with Croatan Institute, Dairy Grazing Apprenticeship, and other partners to map out the barriers as well as the potential financial, social, and environmental impacts of this system.  
Beginner's Resource Guide to Direct Marketing Meat
The Wallace Center team is wrapping up Phase 3 of our work with Delta Institute to assess grass-fed value chains in Illinois and support the expansion of regenerative grazing in the state. We're excited to share a new publication that we created as part of this work – the Beginner's Resource Guide to Direct Marketing Meat. [read guide here]  
New Technical Service Provider Directory through REGAIN
We are excited to offer a new Technical Service Provider Directory through the Regenerative Ag Idea Network! Whether you're an organization looking for a speaker for your next field day or a farmer looking for help writing a grazing plan, this directory will help you find experts near you. We are working to build out this directory so please share and add your information as relevant! [view directory here]  
Want to get updates delivered straight to your inbox? Subscribe to our quarterly newsletter here!