John Fisk – Reflections and Legacy at the Wallace Center
August 24, 2020 — After 15 years in leadership at the Wallace Center at Winrock International, our dear friend and esteemed colleague John Fisk decided to move on to a new chapter. His last day at Wallace was July 17th, 2020.  
The Wallace Center has been an important part of John's life for a long time. As an undergraduate studying agroecology and in graduate school focusing on sustainable agriculture, the Institute for Alternative Agriculture – as Wallace Center was known at the time – was instrumental to John in his professional choices.  It held the vision at a national level that we could move the entrenched agricultural system towards a more environmentally sound and socially just future, while providing economically viable alternatives to an industrial approach. Led by a team of researchers and policy advocates, the Wallace Institute and its partners drove long-term systemic change through federal policy, resulting in shifts in existing policy and greater investment into sustainable agriculture research. Research funds allowed universities and extension across the country to build out sustainable agriculture expertise and programs that helped farmers and others shift towards a new food system. The Institute was instrumental in the passage of the Organic Foods Production Act that required a national standard for organic food and fiber production and continued to champion this controversial legislation over the next 10 years. These and other important actions by the Institute have impacted countless communities, thousands of farmers, millions of acres and consumers across the globe.  
In 2005, John was invited to be the new Director of the Wallace Center, which had merged with Winrock International a few years earlier, and to reestablish its strategic direction and approach to impacting the food and farming system. Prior to this role, John had been a long-term consultant with the W.K. Kellogg Foundation, working closely with the Foundation on several food and farming initiatives. The knowledge and relationships he developed during that time laid the foundation for the direction he would take the Center.   
John is proud of what he and others have been able to accomplish at the Wallace Center to drive change towards resilient, healthy, and equitable food and farming systems. In the last 15 years, the Wallace Center had been reestablished as a leading voice in the development of sustainable and regional food and agricultural systems. Some highlights for John include: 
Building a reputation as an innovator in market driven strategies that use business to integrate social and environmental values into the food system that results in greater food security, increased farm viability, more equitable economic development and environmentally sound farming practices.   
Establishing the National Good Food Network as a community of practice to build capacity, knowledge, and investment into market driven innovations. The NGFN Conference has become a priority conference for food systems leaders, agencies and many others, including funders.     
Becoming a go-to organization for research, tools and technical support for Regional Food Hubs and demonstrating their core role in values-based food supply chains and regional food economic development. This also included launching the Regional Food Economies Fellows program.  
Establishing a long-term working partnership with USDA-AMS in support of greater market access by small and mid-sized farms serving regional markets and using sustainable practices.    
Making a commitment to centering anti-racism, racial equity, and inclusion in our programs, operations, and culture. This commitment is now reflected in all we do.  
Building out the Food Systems Leadership Network to support community leaders in utilizing food systems to build equity, increase health, and develop wealth in communities across the country.  
Developing the Pasture Project as strategy towards better environmental and economic outcomes from Upper Midwest agriculture through adaptive livestock grazing. This initiative is weaving together local and state level efforts for regional impact.   
What have been some things that surprised you during your arc at Wallace? (Within the US food system; be it policy, industry shifts, etc)  
I have been surprised by the skyrocketing interest in soil health.  A healthy soil that is biologically active with good organic matter levels will not only be productive but will be resilient to stress such as drought and excessive rain and will sequester atmospheric carbon. Healthy soil is the foundation of a healthy food system.  Sustainable and organic farmers and advocates have embraced this a long time and have pioneered reduced tillage techniques and developed a diversity of cover crops.  However recently we have much greater interest in soil health use of cover crops among more conventional farmers and farm organizations.   
I have been surprised by the growing interest among young people in farming, food production and food systems. Even though I am not from a farm family or background, as a young man I was very interested in agriculture and set my sights on working in the field one way or another.  But I was one of only a few at the time. Now there are young farmer organizations, community based urban farms that involve young people teaching life and leadership skills and how to grow food, and many young people are coming to food systems conferences and developing careers in the field. Just like my work has built upon those that came before me, I know that there are many more to come that will build upon what I have done. 
What do you feel have been particular successes in the field?   
Although there is a long way to go, I have been excited to see the recognition and investment by counties, states and the federal government into local and regional food as a strategy for community and economic development.  As agriculture became more about commodity production and the industry became so concentrated, agriculture as an economic development became less viable.  Local and regionally rooted food and farm enterprises have turned this around for many parts of the country.  They build wealth in communities, offer self-employment and job opportunity, and are part of what makes a community an attractive place to live and work which further drives development.  Wallace has been at the center of the effort to build the case for such investment and worked to advance market access for small and midsized farms and food enterprises. We have been at the forefront of helping to identify and develop solutions and strategies for local and regional food to be a larger part of the food system.  This includes regional food hubs, local and regional food value chains, food safety training, and Group GAP as a means to food safety certification. 
How about disappointments?  
The livestock sector has been a hard place to affect change.  Yet the need is extremely pressing with respect to farm viability, environmental impact, working conditions, treatment of animals and more.  It is one of the most consolidated parts of the food and ag system yielding both economic and political power so it remains entrenched.  I have been disappointed that over the years I have worked in this field it has not gotten much better. At Wallace we have been able to develop an initiative called the Pasture Project to help transition farms in the Midwest towards adaptive grazing systems and are currently working to expand the value chains that would purchase and market grass finished products into regional wholesale markets. Demonstrating and offering viable options to transition away from commodity productions systems is critical to success.  
Given the extraordinary circumstances that we're in right now, combined with the mobilization efforts to prevent farmers' livelihoods from collapsing and people from going hungry, what do you think we have an opportunity to accomplish in the "COVID era" that we wouldn't have otherwise? 
Linking local and regional much more significantly to SNAP, school food procurement, food banks, and other food access and security programs supported by the government.  These programs have been rooted in commodities for years and only in the last 20 years have local and regional been explored and invested in. But that investment has been minimal, and minute compared to the whole.  We have an opportunity to significantly increase the investment into these programs and their inclusion of local and regional foods.  This could offer more resiliency during times of crisis and build a more place-based economy that will drive more stable communities.   
Food hubs are gaining recognition as a critical part of the regional value chain that helped put food on the table by buying product from local farms and getting it to retail stores and into boxes that are being delivered to people that are in need of food during this pandemic.  We can build upon this through policy change, greater investment in soft and hard infrastructure, appropriate loan programs, and more.  
The pandemic has revealed the dark underbelly of the livestock production and processing systems in this country. We have the opportunity to change particularly inhumane aspects of that system such as processing plant working conditions and the racism that supports such conditions. But we also have the opportunity to decentralize the system somewhat so that farmers have more options in how they raise their animals, who and how they are processed such that they can support healthier food and economically viable farms. Policy and regulatory changes will be critical to driving this change.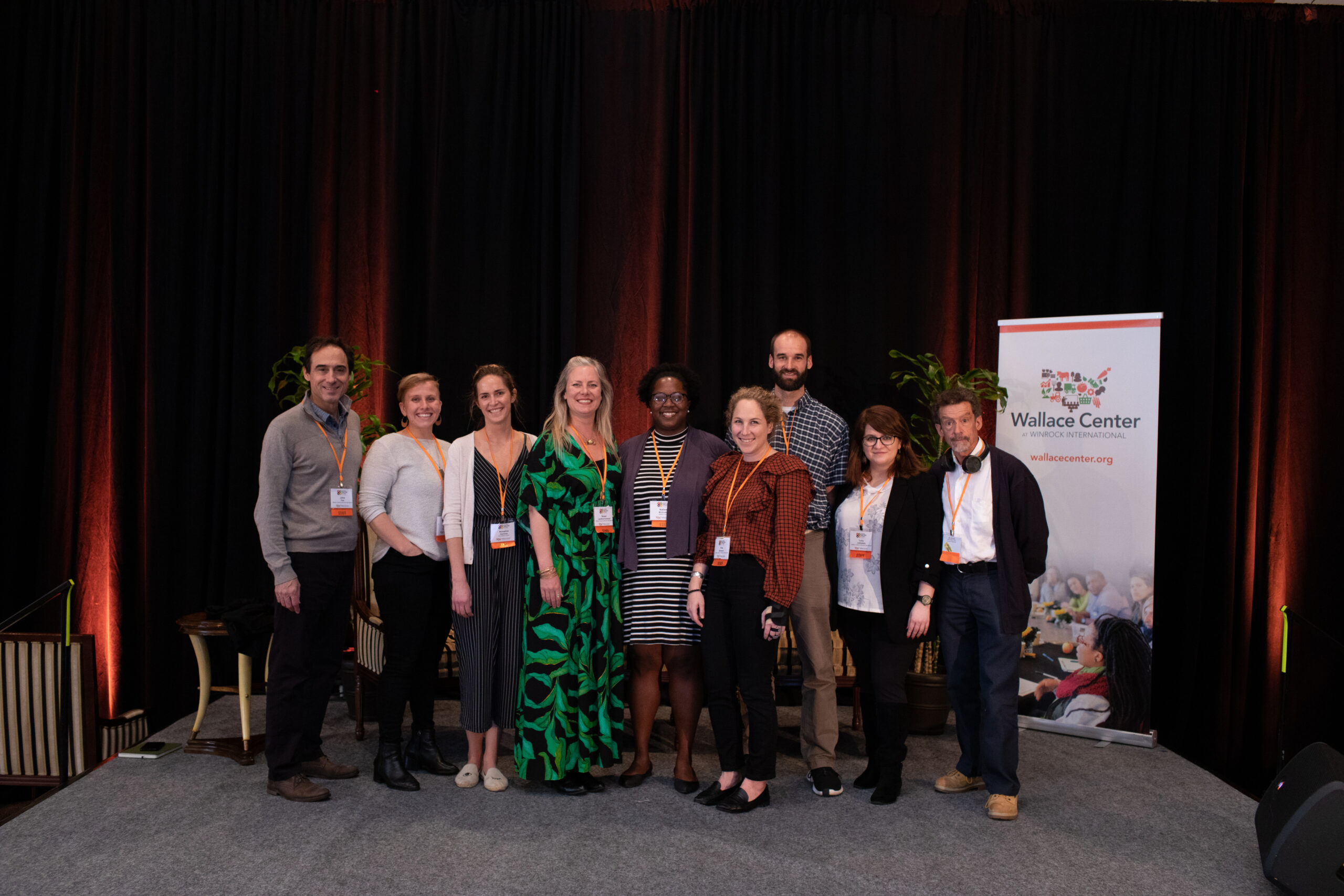 Looking ahead at the next 15 years, what are your hopes for the US food and ag sector? What are the key things you'd like to see change? 
Large companies that buy ag commodities need to be more proactive about driving more climate smart and regenerative production systems. Farms will respond and shift to such practices if their buyers require and help pay for it. Some forward-thinking companies are starting to do this with pilot programs. These need to expand and be integrated with federal farm programs so that the programs reward stewardship along with the buyers.  
National Food Policy: We have farm policy and support programs. We have food security and food access programs. We have food regulatory and food safety programs. But we don't have national food policy which integrates these and other important components into a comprehensive coordinated national food policy. This will be critical going forward to ensure resilience, equity, economic opportunity, environment, and a food system based in healthy farms and healthy food.   
Greater access to land by new and beginning farmers. The barriers to entry for farming are very high. We need innovation in land use, access to capital, mentorship of new farmers by those retiring, greater market access so those farms are viable, and more so the next generation of farmers can get established on the land.  
Reformation in the livestock industry that reels in CAFOs to an appropriate size or eliminates them all together, emphasizes grazing, more appropriate scale processing and breaks the grip of a few large players such that farmers have more opportunity, workers are treated fairly, and the products coming out of these new systems are healthier.  
Urban agriculture finds its place in the food system and becomes a source of community based economic opportunity and an accessible source of fresh and healthy food for all. 
We would like to thank John again for his leadership and the important legacy that he leaves behind that we all recognize and will continue to benefit from. The Wallace Center extends our deepest gratitude and wishes John all the best.